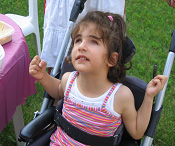 The Comedy Show Benefit for Lolita 'Laugh Without Limits' was a big success and we reached our goal! Thanks to you all for your support. To learn more about the Fundraiser, please read below.
Come join us for a night of fun and laughs at the 'Laugh Without Limits' Comedy Show Benefit for Lolita on Saturday, November 3rd 2007 at 7:30 pm at the Centre Melkite de Montreal , previously known as Centre Communautaire Bois de Boulogne, located at 10 025 L'Acadie Blvd in Montreal, Quebec . Paroisse Saint-Sauveur is organizing this Fundraising Event in close collaboration with the family. Tickets are 40.00 $ each.  Any additional donation is welcome.  Your contribution will help offer her therapy treatments and allow her to live without limits!

Celebrity comedians include Neil Janna (Just for Laughs), Franco Taddeo (Critically Acclaimed by Montreal Gazette), Derek Seguin (finest bilingual comic in Canada), Rachid Badouri (Winner of the "Discovery of the Year" award at the 2005 Just for Laughs Festival). There will also be a door prize, raffle tickets and a draw for great prizes to be won during the evening of the show.
September 4th, 2007
Dear Reader.
Please allow me to introduce myself and take a couple of minutes to talk about a special cause that I have at heart.
My name is Janet Soueidan, mother of a 5 year old girl who has been suffering with Cerebral Palsy and Visual Impairment since birth.   Lolita suffers from muscular spasms which unable her to coordinate and command her body movements. My husband and I want to give her a chance to progress and see her sit on her own, walk and talk. Unfortunately, the daily routine treatments don't seem sufficient therefore we've started Hyperbaric Oxygen Therapy which is recommended by therapists and specialists doctors.
This long and expensive treatment is entirely at our cost and requires means of transportation. It's an effective medical treatment for different forms of Cerebral Palsy. This treatment could help heal Lolita's physical handicap. Until this day, Lolita has undertaken sessions for a total cost of $20,000. Since then, there has been not only a medical imagery improvement but also a progress in her the level of balance and muscle tone. This improvement is a first step towards future autonomy. There's nothing like having a goal, lots of hope and a strong will to go all the way!

Our goal is to continue to offer her different types of therapies such as physiotherapy, occupational therapy, speech therapy, horseback riding therapy, swimming and most of all, hyperbaric oxygen therapy.  All of these costly treatments are not reimbursed by the RAMQ or private insurance. Therefore, we're planning a Fundraising Comedy Show 'Laugh Without Limits' on Saturday, November 3rd 2007 .
We are asking for your participation and presence. If you would like to participate in selling tickets with us or simply purchasing them, you can contact me by email or at 514-561-3698. Please feel free to pass this information to your friends, co-workers and family so we can all join together and give this angel a better life.  I know we can put all our resources together and make the event a success.
To make it a "hilarious" night, here are the starring celebrity comedians of the show:
Neil Janna
Just for Laughs, The Tonight Show with Jay Leno.
Performance for the Prince Charles "Prince's Trust Concert".
Franco Taddeo
Seen on the CBC + CTV, Tours all across Canada, Critically Acclaimed by Montreal Gazette.
Derek Seguin
Just for laughs + the finest bilingual comic in Canada.
Rachid Badouri
Winner of the "Discovery of the Year" award at the 2005 Just for Laughs Festival. Winner for 2006 Les Oliviers. Starred in a Loto Québec-Québec 49 ad campaign. Premier one-man show, fall 2007
In closing, I want to thank you all for taking the time to read my letter and hopefully I will hear from you soon and most of all you will be there holding a glass and cheering with us at the event.  If you need more information on Lolita's treatment, the show or details on how to contribute, don't hesitate to contact me.
P.S.  For those who can't make it to the event, you can always contact me if you wish to help.
Sincerely,
Janet
0 comments Wednesday 05 Sep 2007 | |
Leave a Reply
You must be logged in to post a comment.